Even as that "tubby" boy who thought not once about calorie content in food, I never really liked pie crust. So now that I'm ever so conscious of what I consume, I opt for no crust on the healthy pies I make.
I'm writing this prior to knowing what November's
WIAW
theme is, so please forgive my non-themed post. Not like I was very good at following last month's theme either….sorry again. And while I'm on the topic of "sorry", I'm sorry for the lack of brand new pictures for my post. I've still been cooking, but the pictures (as unprofessional as they are) take up a lot of precious time. Time I want to be spending with my loving wife, Kelley.
So hopefully I won't lose any of you during this time of infrequent posts and pictures; I promise to get back into the game sometime…..just don't know when!
Being November with Thanksgiving right around the corner, I'm sure there's many a foodie with pie on the mind. I like pie, but only if made by me or I know the exact ingredients used and I like them. Since I don't make pie often, this obviously means I don't have a lot of the sweet, round, dessert. This season, I'd like to work on making my own healthy version that has no crust and that friends and family will enjoy.

I bet PB Crave Coco Bananas and pureed sweet potato would be an awesome pie! Ughhnnnnnggggg!!! I think my stomach is saying something....
Sounds easy, but most of my "healthified" dessert attempts wind up being something only I enjoy. That's okay to a degree, but I'd like to share. So, the first part to a healthier pie is taking out the crust component. This isn't hard, just prepare the pie filling (the best part anyway) and if it's one you cook, put in pie pan and bake as needed.
I think making overnight oats in a pie pan would also be an excellent no-cook and healthy version. Imagine, overnight peanut butter pumpkin oats mixed with milk of choice, protein powder, and pumpkin pie spice all mixed up and placed in a pan to set over night. You could wake up and have pie for breakfast; and it would actually be good for you!!
Right now I'm just "talking the talk", but please stay tuned, I will post an overnight pie recipe to do the "walking" part soon.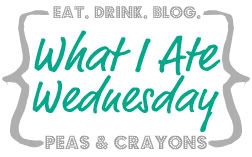 As mentioned earlier, I am lacking in the picture department, so I'll list out what I ate and then post a few pics and recipes for pies I found online. Thanks yet again to Jenn at
Peas and Crayons
, I love What I Ate Wednesday's!!
For those who find it hard to stick to just one slice (me), make mini pies so you can have the whole thing and not feel bad!
Here's the recipe
good for 8 mini pies you can keep all to yourself or share with everyone! I'm pretty sure I'll have a few of these in my fridge soon! If you don't have custard cups, I'm sure a greased or paper lined muffin tin would work as well. Then you could even make them a little smaller and have 12 mini desserts!!
I found
this recipe
just through a Google search and like it as a way to start; plus it's less than 500 calories for the whole thing. I would not use any artificial sweetener like Splenda and go for Stevia instead. Also, instead of milk, I will use unsweetened almond milk and protein powder in place of flour. That's the beauty of recipes….you can suit to your own desire!!

Another Gracious Pantry recipe must try is this
Clean Eating Sweet Potato Pie
. Yum! There's a crust recipe posted too, but again, I'd leave it out although it sounds simply delicious! A big thanks to Tiffany at The Gracious Pantry for allowing me to post these tasty pictures on my site. If you haven't before, check out her blog and social media pages for clean and tasty recipes!
So, have you or will you be making pies this season? Ever try going crustless? Besides saving in the calorie bank, I think no crust helps you enjoy more of the flavor filling anyway.
Please share any recipes you have as I really want to test a few out. And most importantly…
Happy WIAW, have a wonderful rest of the week!!
One more thing....it looks like another 4 years of Obama. Are you : ) or : (
As a typical Texan, I'm more : ( about this one, but I also know the world won't end as a result. So... : )