Today's
WIAW
will be the last for Green Foods month; it's sad, but I can't wait to see next month's theme! This doesn't mean I'll start slacking on my green food intake though; I'm a salad fanatic and love Brussels sprouts too much to cut down on this color!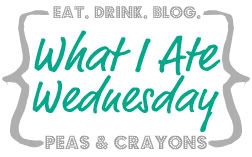 It's been an exciting March, and I'm happy with the green-themed fun I had and viewed on WIAW posts from other foodie bloggers The onions I mentioned in
last week's post
are still going strong, but I feel like it's time to use them soon. I really enjoy being a part of the What I Ate Wednesday crew and don't plan on stopping any time soon!
Still growing Green as of last Saturday....
For this week's green food, I added
Watercress
to my menu as a mix-in for my nightly salad. Watercress has a hint of spice and touts many health benefits including its use as a digestive aid. This proved helpful to me since I tend to eat most of my food at night and it keeps my stomach from going crazy.
Rinsed and ready for the spinner!
I didn't do anything fancy, just mixed it in with my nightly salad and that's all I needed. Sometimes I just grab a handful of greens and eat them from my hand; there's just something refreshing about crisp greens with nothing else. Do you ever eat salad greens by the handful or am I alone on this?
Now, on to today's

green eats

……..
Breakfast
– French press coffee with cinnamon and vanilla extract; small cup of leftover red quinoa with veggies, fresh jicama slices, and leftover
Pumpkin Protein Crepes
from this weekend
Ever get to a point where you don't want to spoon the last of the batter out of the bowl?
I did; this is what happens. I didn't make Kelley eat this one....
Snack – Mug of unsweetened green and red tea and a few pieces of dried okra
Crispy, crunchy, and green!
Lunch
– green split pea with mixed veggie puree (I had this last week and wanted it again) and I used
Corn Thins
for dipping; dehydrated Brussels and okra, celery sticks, an apple, and sliced jicama provided a means to my mindless eating attack afterward
After Lunch
– more green tea mixed with decaf chai tea and stevia; late night at work, so my usual outdoor activity is shortened and I'll only get to have a few rounds with the punching bag.
I will definitely make this dip again.......then probably another time after that!
Crunchy peanut butter goodness = happy me!
I have been planning to go to a yoga session with Kelley on Wednesday, my rest day from my current workout routine, but something seems to happen at work every time! Guess I'll just keep hoping for a chance because I could use the flexibility.
Have you done anything special for
National Nutrition Month
? I think it's kinda ridiculous since we should focus on nutrition every day. Do you agree or disagree?
Happy What I Ate Wednesday!