With Greek yogurt, that is. Maybe you have already joined the Greek yogurt fan club, or maybe you are still eating the regular kind, or mayyybbeee just the thought of yogurt makes you sick. Whatever the case, any yogurt, Greek or regular, carries many benefits for the body. But, a side to side comparison goes to show the Greek variety to tout the "better for you" badge.
Just looking at the two types will illustrate the thicker and creamier consistency of Greek yogurt. The extra body is a result of an extra straining process to remove whey and water; no unnecessary thickeners are needed which is a big plus. The downside to the extra straining is that there is less calcium in Greek versus regular yogurt. So, if you depend on yogurt for your primary calcium source, you might want to stick with the regular stuff or start taking a supplement.
Less calcium is the only negative result from extra straining. With the water and liquid whey being strained, Greek yogurt provides more protein and healthy bacteria than regular because there's more of the good stuff by volume. The bacteria aids in the break-down of lactose (milk sugar), making it easier to digest for lactose intolerant individuals. Additional straining also removes more sodium and sugar in Greek yogurt, reducing the carb and sodium amounts in half when compared to regular varieties. This makes Greek strained yogurt a superior choice for people with heart conditions or high blood pressure.
In sum, Greek yogurt offers the following when weighed against the regular stuff:
- Almost twice the protein
- Only half the carbohydrates (sugar)
- Creamier and thicker
- Only half the sodium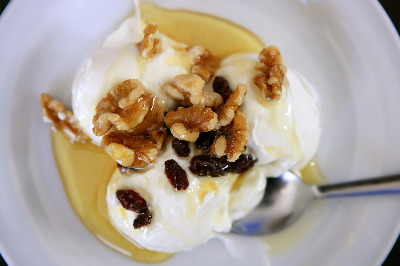 Whether it's Greek or regular, I sugguest buying plain, non-fat versions and adding your own flavor as you see fit. This helps avoid the crazy amounts of sugar added by the manufacturer. The thick, smooth and tangy profile of Greek yogurt is usually good enough for me, but a drizzle of honey, fresh or frozen fruit, and a few chopped nuts makes for a real treat.
A few brands that stand out among the rest are Stonyfield Farms, Chobani, and Fage. My top choice is usually Chobani as it offers the same quality and nutrition as the others, but usually costs less. Also, I have a dealt with the company on an issue that they were quick to resolve. It really shows how they value their customers.
Check out
this link
for your chance at winning a whole case of Chobani Greek Yogurt!
Aside from just eating as is, yogurt is a great substitute in many cooking and baking recipes too. Greek yogurt, though, can be heated without curdling which makes for an easier use in high temperature cooking. Greek yogurt can be used in many of your favorite dip recipes. Just add a packet of ranch dip to a container of plain Greek yogurt for an instant, flavor-filled dip for pita chips or veggies. It's also great as a marinade as the acids in yogurt help to tenderize meat.
Stonyfield Farms offers useful ideas and a printable substitution guide that can be
found here
.
Here's an excellent
Tzatziki recipe
from Chobani's website I love to make and use as a dip or marinade, and the longer it sits in the fridge, the more flavorful it becomes.
Ingredients
1 medium cucumber, peeled, seeded, shredded, and squeezed dry in a kitchen towel
2 C (16oz) Plain 0% Chobani Greek Yogurt
2 tsp fresh lemon juice
1/4 tsp salt
2 garlic cloves, minced
1 Tbsp extra virgin olive oil
1 Tbsp red wine vinegar
1 Tbsp fresh or 1 tsp dried oregano
Preparation
Mix all ingredients together in bowl. Cover and refrigerate 1 hour or overnight.
Nutrition Information (per Tbsp): Calories 13, Fat 0g, Saturated Fat 0g, Trans Fat 0g, Cholesterol 0mg, Sodium 25mg, Carbohydrate 1g, Fiber 0g, Sugars 1g, Protein 2g
I use Greek yogurt as a substitute in many baking recipes that call for oil, and still end up with an outstanding treat that's low in fat but high in flavor and protein. It also replaces other fatty ingredients like heavy cream, cream cheese, sour cream, ricotta cheese, and even butter.
A great
banana bread recipe
using Greek yogurt is a tried and true way to satisfy cravings for a guilt-free snack, breakfast, or anytime of day. Spread some peanut butter on a thick slice for a real treat.
Ingredients
¾ cup all-purpose flour
¾ cup whole-wheat flour
1 tsp baking soda
½ tsp salt
2 Tbsp butter
½ cup natural applesauce (no sugar added)
¾ cup sugar - I use about 1 1/2 tsp of liquid stevia
2 large eggs - or 4 egg whites
1 tsp vanilla extract
3 large overripe bananas
½ cup Chobani Plain 0% Greek Yogurt
½ cup walnuts, toasted and chopped (optional)
½ cup semi-sweet chocolate chips (optional)
Preparation
Grease large loaf pan. Preheat oven to 350F. In a small bowl, stir together flours, baking soda, and salt.
Peel bananas. Cut each in half lengthwise and then cut each half into halves. Chop quartered bananas into 2-inch pieces. Set aside.
In a large bowl, cream butter and sugar into a smooth paste. Add applesauce and vanilla, and mix until combined. Add eggs on at a time, and beat until incorporated.
Add flour mixture to wet ingredients, and mix well. Add chopped bananas, nuts and/or chocolate chips and Chobani.
Fold ingredients in, being careful not to break up banana chunks. Bake at 350˚F for 1 hour or until inserted knife comes out clean when removed from loaf.
Nutrition Information: Calories 210, Fat 4g, Sat Fat 2g, Protein 6g, Carbohydrate 40g, Fiber 3g, Sodium 110mg
For more flavorful Greek yogurt recipes, check out
Chobani's website
.
Whether you eat it alone, with fruit and honey, mixed in cereal, as a substitute in baked goods, a marinade, a dip, or base for a smoothie, you are sure to be please with the end result. So give it a try and go Greek if for only one day……I guarantee you'll be left wanting more!