Vacations are great; time spent away from work and with people you love help you forget the daily stresses and relax (hopefully). But then there's the dreaded
end of vacation
where the little worries start popping back into your head and you dread the return to routine. I'm sure most of you know what I'm talking about, and I have some of that feeling now.
From Left: Me, Kelley, and my Grandma on a visit to Baltimore, Maryland.
This can really zap the motivation to cook right out of me. Do you ever get this feeling? Luckily, I am set in my ways and determined to make healthy choices. Thank goodness there's frozen produce to fall back on!
Although most of my vacation eats entailed steamed veggies at grandma's house, I thoroughly enjoy eating these and haven't grown tired of them yet. Upon our return home, I gathered several bags of Earth's various frozen gifts and quickly created meals for our shortened work week lunches. Since veggies reign supreme in our home, I had extras for breakfast and dinner too.
These may not be extravagant foods, but they sure are healthy and I feel they keep my ticker ticking better than the person in a McDonald's line. No offense if you're one of those people, I just chose Mickey D's, but it could be any fast food chain.
With that said, I'm home and ready for another What I Ate Wednesday post!
Happy WIAW!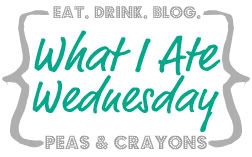 Breakfast
– Microwave scrambled egg whites mixed with a generous medley of steamed beans and veggies. I seasoned everything with pepper, cayenne, cumin, garlic powder, and dill. See that full cup of coffee? I didn't need that to wake me up for the morning, the spice was good enough....but no need to waste good coffee, I drank that too.
Snack
– Unique Sprouted Whole Grain Pretzels I brought back from PA and green tea. I'm pretty sure all the best pretzels and made in PA; even the smallest convenience store has at least 4 different brands to choose from! Mmmm, pretzels are my Prozac; they're comforting crunch and salty goodness flips the "I'm stressed" switch to OFF.
Lunch – Spicy chilled quinoa and vegetable bean salad; organic golden delicious apple; baby carrots and baby bok choy
Snack
– Ugh, back to work after being gone for over a week; no snack today.
Dinner – Even more steamed veggies (not complaining, really); the Brussels Sprouts were green globes of goodness satisfying both my sweet and savory taste buds; Baby Bok Choy Lump Crab Sliders (recipe to come soon....it's easy); chocolate squash protein smoothie; plain non-fat Chobani Greek yogurt with dry roasted almonds.
Awesome! That was a lot of vegetables and I am not complaining one bit. The best part is that there are so many vegetables to try that it's hard to truly get bored of them, despite what some people say or think. So many friends and family talk as if it's hard to eat like me, but after slowly making the change from packaged foods to whole foods, it becomes second nature.
I've read enough ingredient labels and food articles to view a slice of chocolate cake at a restaurant as nothing more than a combo of hydrogenated oils, sugar, corn starch, more sugar, and a little crap.
My apologies if you think I'm being too harsh, it's just a topic I'm passionate about and don't like to hold anything back when discussing it.
Q: Do you feel passionate about a certain food, food group, or diet? How do you proceed to explain when talking about it with others who don't understand?