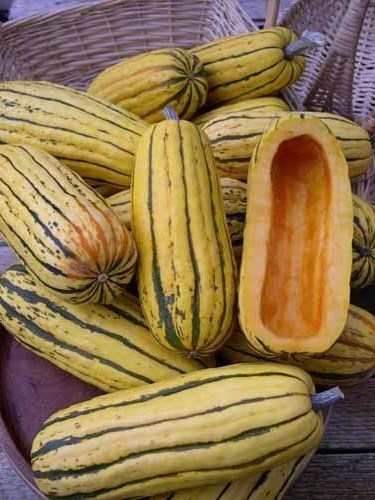 What do you like most about the Fall? Is it the cool, crisp air, the bright, vibrant colors of nature, or maybe the food that's in season? I choose all of the above, but really enjoy the wide availability of winter squash varieties. I am able to get squash like pumpkin (pureed in a can), butternut, acorn, or spaghetti year round, but my favorite is delicata squash.
Have you tried this squash before? The whole thing, even the skin, is so tender and sweet that when cooked can be consumed in its entirety. My face lit up with joy when I entered the store the other week and was greeted with a mound of delicatas just waiting for me to take home. I've mentioned how I enjoy blending squash and fruit together basically every day, and delicata squash is no exception; this stuff is a real treat!
Delicatas are very dear to me, but I felt like sharing the awesome flavor they provide by making a healthy pureed soup with delicata, cannellini beans, and ginger. The result was a big hit with Kelley and I loved it too! Now, once the Texas weather cools down to more "fall like" temps, I will make it again. Homemade soup purees are perfect to warm you inside and out!
The sweetness of the delicata makes it great in my blending creations without the need for fruit. I will add chunks of microwave steamed delicata (skin included) in a blender, add some protein powder, unsweetened almond milk, a pinch of salt, and blend away. The result is a tasty treat with a consistency similar to pudding, but oh so much better! Add unsweetened cocoa powder and vanilla stevia for a chocolate squash pudding that offers the perfect comfort to long day, week, month, etc.
Delicata, Cauliflower, and White Bean Ginger Soup
3 Delicatas – cut in half with seeds removed and steamed in microwave
6 ounces frozen cauliflower – you can use broccoli too, but cauliflower keeps it a pleasant color
2 carrots, peeled and chopped
15 ounce can of cannellini beans, drained – navy, lima, black, or other beans would work fine
Half of a yellow onion, diced – or use a 6 ounce bag of frozen, chopped onions
4 cloves garlic, crushed and chopped
1/2 tablespoon fresh ginger, chopped
1 1/2 teaspoons each of cumin, paprika, ground mustard
1 tablespoon of parsley and dill
6 ounces plain, non-fat Greek or regular yogurt
2 cups of low sodium chicken or vegetable broth
Heat a sauce pan over medium-high heat; add garlic, onions, and ginger and allow to sweat (they will be fragrant) for minute or two. Add the steamed delicata in chunks, cauliflower, carrots, beans, herbs, and spices; pour broth and bring to a boil. Reduce heat to low, stir, cover and simmer for 30 to 45 minutes. If there is a lot of liquid left over, remove the lid and continue to simmer until some evaporates. Remove from heat and puree using an immersion blender right in the pot or blender. If using a blender, only fill half-way or it will be all over the kitchen…..and you. Stir yogurt into pureed soup, garnish with fresh or dried dill or parsley and toasted almond slivers if desired. Serve and enjoy!
As with most soups, ingredients can easily be substituted, so add in or take out things as you see fit. There are so many unique flavors that combine really well to give a comforting feeling upon the first spoonful. Make sure you have some hearty, whole grain bread toasted to use for dipping.
If you want to stick with a squash theme (and who wouldn't!), here's a quick chocolate squash "pudding" you can enjoy without guilt.
Chocolate Squash "Pudding"
Using 1 delicata squash that has been oven roasted or steamed and cooled; add to blender with 3 ½ tablespoons unsweetened cocoa powder, 10-12 drops of regular or vanilla liquid stevia, vanilla protein powder (optional), large spoonful of plain, non-fat Greek yogurt, and 3/4 to 1 cup unsweetened almond milk; blend until smooth. You can omit the stevia and add a frozen banana instead; it adds a nice taste and texture….might as well add some peanut butter too. Yum, now I'm hungry….think I'll have this tonight!
When it comes to blending, using tasty veggies like squash or carrots lets you create healthy alternatives to favorites like pudding, milk shakes, and ice cream. I try to make something different with what I have all the time; it's fun and sometimes turns out great.
It has been busy at work lately, hopefully I will be able to post more than I have been. Please keep checking in as I received some awesome samples from Crunchmaster and will post a review soon.
Happy Eating!